Some basic planning rules for residential development in the Gisborne district. Development such as: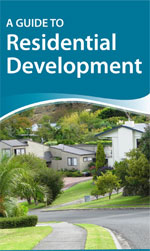 building a new house
extending an existing house
building a garage (accessory dwelling)
building a second dwelling
The rules for development within Gisborne's residential zones are outlined in our District Plan.
See TRMP Chapter 17 - Residential Development
It's best that you talk to our duty planner about your development plans first.
Consents you may need
Your project may require a resource consent and building consent:
Resource consent is required for activities that impact on the environment - that includes neighbours and the neighbourhood.
Resource consent is approval to build or use your land in a way that does not meet the requirements of the district and regional plans.
You may be required to provide an assessment of effects in regard to noise levels, traffic, safety or loss of sunlight.
Building consent is to ensure your building is structurally sound and safe.
Construction techniques, plumbing, drainage and land stability would be assessed through the building consent.
Tairawhiti Resource Management Plan requirements
Your development needs to meet the following requirements in the TRMP (District Plan).
In the case of the height and yard requirements, you also need to obtain approval from the neighbouring property owners.
If you can't meet the following requirements or get neighbours approval, you will need to apply for resource consent (land use).
The minimum size of the section on which you will be working.
Check the TRMP to confirm which zone your section is within and the minimum site area for that residential zone.
Refer to Chapter 17.17.2.1 - Minimum Site Area
The minimum distance between a building and your boundary.
Yard requirements are designed to protect your privacy. Yards differ depending on whether the building is a house, a shed, garage or carport. These requirements are shown here.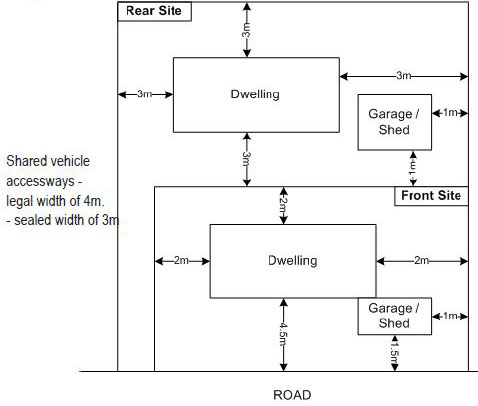 A building may be built closer to a boundary if the affected neighbour gives their written approval and if the building still meets the height rules.
The height of buildings relative to their distance from the boundary.
These rules are designed to protect your neighbour's access to sunlight. The building height recession plane is calculated by measuring 2.75m vertically on your boundary. Your building must fit within the angle specified in the diagram. Minimum angles allowed differ depending on the orientation of your section.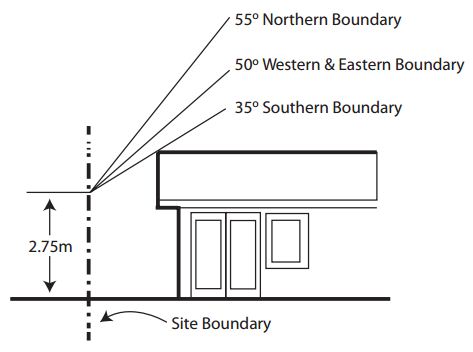 If your proposed building infringes the height recession plane but the extent of the infringement is less than 1.0 metre, a resource consent will only be required if the affected neighbour will not give written approval. If the building exceeds the height recession plane by more than 1.0 metre, resource consent will be required.
See District Plan - Appendix 21 - Recession Plane Indicator **INSERT LINK**
The percentage of your property covered by buildings and structures.
No more than 35% of your land (site) area can be covered in buildings.
This includes existing buildings and structures with a roof and decks 2.4m above the ground. Access strips (driveways) to rear sites may not be included when calculating this percentage.
See TRMP Chapter 17.17.2.2 - Site Coverage
Accessways or driveways to 2-4 houses must be a minimum of 4 metres wide on your plan.
They must be sealed to at least 3 metres wide.
There are different requirements when 5 or more dwellings share an accessway.
Multiple units or buildings additional to the main building cannot be longer than 15 metres.
If they are, at least one of the buildings must be offset by at least 2 metres or set a sufficient distance from the boundary.
See TRMP Chapter 17.16.5 - Building Length
Minor dwelling unit
A minor dwelling is a dwelling unit which is not the principal dwelling on the site and which has a floor area less than 60 square metres.
It must comply with points 1-5 listed above. There's no minimum site area for a minor dwelling unit.
Multiple dwellings
Any additional dwelling with a floor area of 60m2 or greater is considered to be an independent dwelling unit which must comply with requirements 1-6 above.
Note that the minimum site area requirements apply to each dwelling. For example, 2 detached houses in the general residential zone require a total site area of 800m2.
Development contributions
These are financial payments charged when developing property.
These contributions fund the infrastructure and reserves required to provide for the demand created by growth. This demand can come from a range of development. It may include residential, commercial or industrial development.
A development contribution payment is required for both the construction of a minor dwelling and a second residential dwelling although the amount will differ.
Need more information?
This information is for small scale development. Please contact our duty planner for more information.
See resource consent forms and guides.