Cyclone Gabrielle impact across our region
The national state of emergency over Tairāwhiti ended 14 March. One month on from the declared local state of emergency at 9.45am Monday 13 February, that was superseded by a national state of emergency at 8.45am Tuesday 14 February.
The most severe weather impacted Tairāwhiti on Monday 13 February through to Tuesday 14 February then reduced intensity. It caused widespread damage to roads and infrastructure, homes and businesses across the region.
The damage and impact of Gabrielle compounded with the adverse impacts of Cyclone Hale on 10 January and previous severe weather events since March 2022. Tairāwhiti has been in an on going state of recovery as a result of 8 significant storms since June 2021.
Cyclone Gabrielle Civil Defence Timeline
Attached below is an account of the key milestones, decisions and coordination efforts of the Tairāwhiti Civil Defence Emergency Management, and their emergency management partners, from the 4th-19th February 2023.
CDEM Cyclone Gabrielle Timeline
Short survey about Cyclone Gabrielle and you
We'd love to hear if you were impacted by the cyclone and whether you received adequate information and support pre and during the cyclone. This is a quick survey and should take you no more than 5 minutes.
At the peak of the event, rivers across the region peaked at:
Waipaoa River 12.8m
Waiapu River 8m - the highest level recorded since 1975
Te Arai River 4.9m - the highest recorded since 1983
Hikuwai River 14m - in 1988 Cyclone Bola, the level was 14.3m
Rainfall over Monday and Tuesday 14 February:
547mm Raparapaririki, Waiapu
500mm Mangapoike, Waingake.
Power and fibre optic connection was lost for 5 days - this meant no broadband internet and cellphone service, causing Eftpos and ATM machines to go offline.
Both state highways 2 and 35 into the district were closed.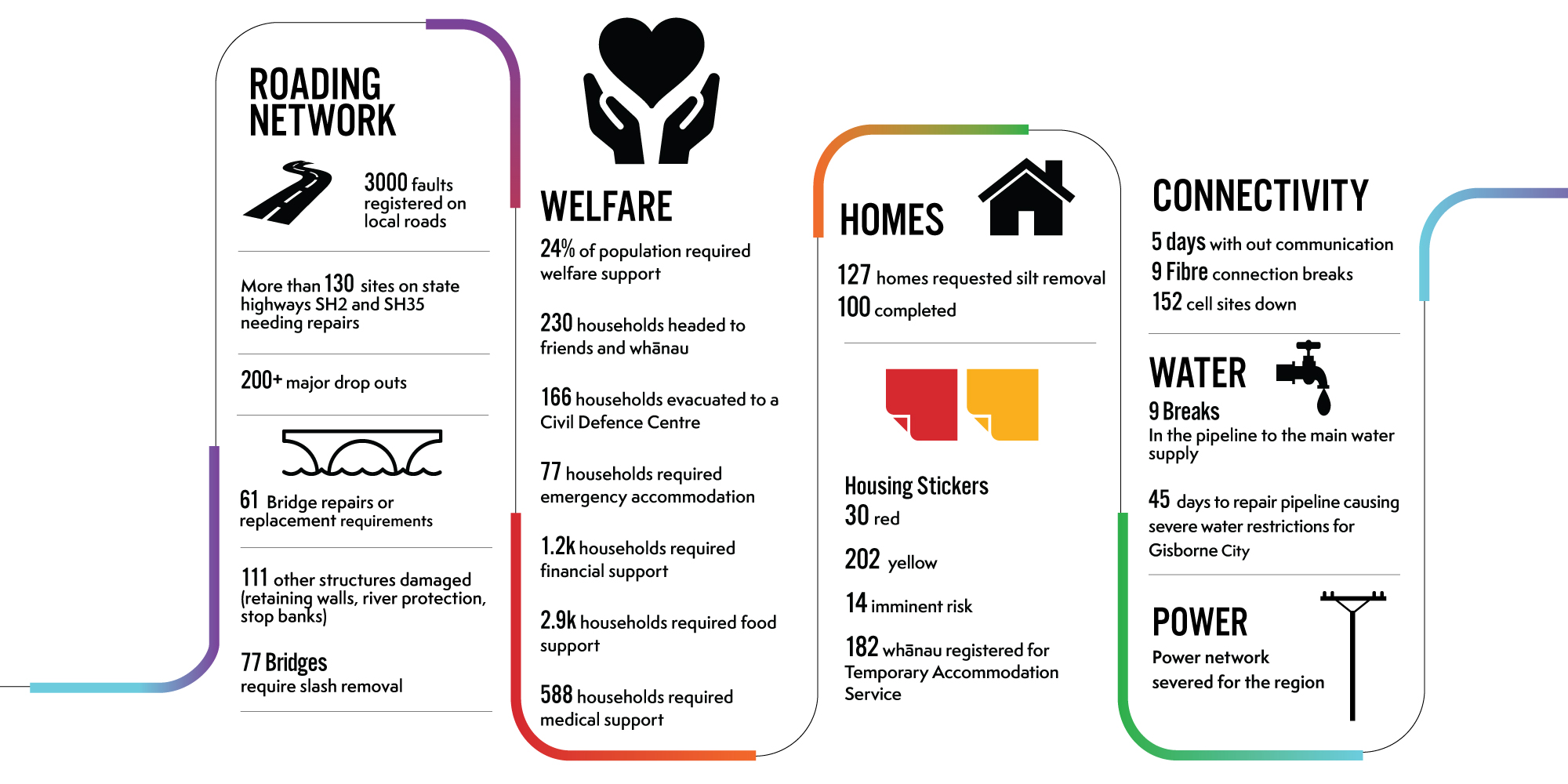 Tairāwhiti is now in the recovery phase
In response to this disaster, a comprehensive recovery and resilience plan is being developed to support the community's efforts to rebuild and increase readiness for future disasters.
The priorities for recovery are to address the immediate needs of affected communities, repair and explore resilience options for damaged infrastructure and implement mitigation measures to reduce risks from future weather events. The recovery plan will focus on 4 key environments - built, natural, economic and social.
The Office of Recovery will follow a framework that ensures support of our community is at the forefront of the implementation of recovery priorities. Community knowledge and expertise will drive the recovery plan. Communities will be supported and empowered throughout the process. More than anything it's also about ensuring we have resilience in any re-build efforts.
We're also working closely with Trust Tairāwhiti looking at what's needed in the economic recovery space. That includes liaising with government departments to ensure our regional recovery plan is aligned.
Recovery work and information
Advice and information, work underway and what's being planned for our region's recovery.
More information on silt and facilities
Seven reserves sustained severe damage that will require investment in repair and remediation before they're safe for community use.
A waterway restoration project of $1.5M is required to fence, plant and conduct predator control on the waterways that were damaged and on the reserves and facilities to aid in the prevention of damage from future weather events.
Burials at Taruheru Cemetery could not take place due to groundwater issues following the cyclone. A programme of repair and remediation is required to ensure that the cemetery, with over 20,000 internments, meets the community's needs and safety requirements.
Location
What is happening
Planned work
Anzac Park

Silt removal and remediation work is currently underway at Anzac Park. The area is closed as it is a work zone and there are numerous risks to the public.

Remediation work is expected to continue until mid-June 2023.

Alternative locations for walking your kuri include:

On-leash areas:

Titirangi Reserve
Waikirikiri Reserve

Off-leash areas:

Heath Johnson reserve - the strip on Paraone Road side of park
Cold Stream Reserve
Midway Beach
Foreshore from Pacific Street to Waipaoa River
Wainui Beach - except during school and public holidays

Land remediation through silt removal, tree works, re-sowing grass areas to restore to a safe parkland setting.

Doneraille Park

Closed to the public. Access is restricted due to bridge damage and there are significant volumes of silt and woody debris deposited on site.

It is expected the site will be closed for at least two months.

Woody debris removal and re-sow of grass to restore to safe parkland setting.
De Costa Park

Re-grading and re-seeding of the reserve is needed so that grass can establish. We ask the public to refrain from moving waka or equipment out on to the reserve.

Updates will be provided on reopening.

Silt removal and site remediation, re-seeding of grass.
Botanical Gardens Playground

During Cyclone Gabrielle the playground soft fall was washed away. The playground is closed until the soft fall can be replaced.

Expected reopening mid-June.

Removal and replacement of contaminated soft fall and minor adjustments to play pieces.
Rere Rockslide picnic area

Picnic areas are closed to the public due to washouts that occurred during the cyclone.

A timeframe for this site to reopen is not yet known.

Re-locate picnic areas undermined by washout.
Titirangi
Some tracks remain closed due to slips. Restoration work is being scoped. Please look out for signage on tracks.
Tree work and track maintenance.
Turanga Gardens

Gardens are closed as there are significant risks from falling debris around slips and potential fall risks due to sink holes.

Tree work and land stability improvements.
Waka ama, kayaking and rowing are popular sports utilizing Anzac Park.
Anzac Park was inundated with silt from the Waimata River which caused large scale damage to water sports facilities and equipment. A proposed facility that is flood-resilient, safe and located outside the flood zone is proposed at a cost of $8.4M as part of a resilience package that recognises the link between community connection and physical and mental wellbeing. Coordination is necessary to ensure a dig-once approach is achieved.