In July 2020, the Government launched the Three Waters Reform Programme - a three-year programme to reform local government three waters service delivery arrangements for drinking water, wastewater and stormwater.
Government is proposing to establish 4 publicly-owned water services entities to provide drinking water, wastewater and stormwater services across the country.
We'll be working closely with central government on the Three Waters Reform Programme to ensure the water security needs of our community are met.
What the Government is proposing
The Government's proposing to reform the three waters sector, to address national systemic underinvestment in the infrastructure, and to avoid the likely future costs of uncoordinated investment.
The Government, working with councils, is proposing to build a better system for our three waters that is still owned by the communities it serves. Go to their website for all the information threewaters.govt.nz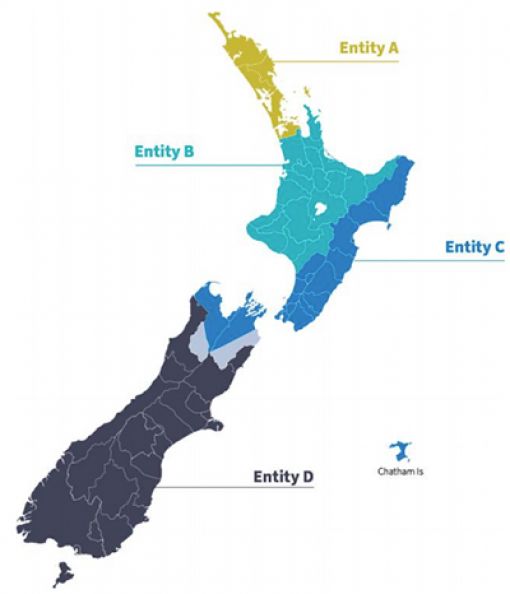 Three waters reform explained by Local Government NZ
LGNZ three waters explained This includes FAQs - who will own the water assets, what alternatives where considered, levels of service, the package and decision making and consultation.
What's next?
By 1 October, the Government wants to know what we think the issues are that arise from their proposal and any potential solutions.
This is made difficult by the fact that Government won't be telling us if participation in the reform is mandatory or not. Or what the final boundaries (for us – Entity C), or what the governance and transition and implementation arrangements will be until October 2021.
If the proposal, to amalgamate into 4 water service entities, progresses, the entities would be expected to be in full control of delivering three waters services on 1 July 2024.
Gisborne District Council's position on the proposal
Mayor meets with ministers over three waters reform proposal
24 September
This week Mayor Rehette Stoltz met with Ministers, including the Minister for Local Government Nanaia Mahuta to discuss the Three Waters reform proposal.
Government is proposing to move the management of the three waters away from individual Councils to one of four publicly-owned regional entities. Tairāwhiti has been included with Hawkes Bay, Wellington and the top of the South Island in a group of 21 Councils called Entity C.
"We have concerns and they have been reinforced with a report that Council has independently commissioned," said Mayor Stoltz.
"I've made those concerns very clear with Ministers and our discussions were open and informative. They were impressed with our reasoned response to the reform proposal.
"While we agree with Government that change is needed, our concerns are particular to our region.
Proposed benefits of the reform include greater financial affordability, access to water services and higher overall water standards.
"While we can see the benefits of the reform, we can also see the disadvantages. It's not clear if there is a net benefit to our region, so that question still hasn't been answered."
The independent report commissioned by Council has found inconsistencies in the data used by Government to model the projected impact on Tairāwhiti without Three Waters Reform.
Data released by Government shows without big changes, local ratepayers could be paying more than $8690 per year for drinking water, stormwater and wastewater services by 2051, compared to $1260 without reform.
Council has worked with strategic advisory firm Castalia to understand how Government has arrived at these figures.
The report indicates the data is based on incorrect assumptions and that the estimated required investment into our local infrastructure has been overstated by at least $1.75b.
Government has used the Water Industry Commission for Scotland (WICS) as a model for the reform. The report has suggested the comparison isn't compatible with New Zealand because of differences in population densities of the two countries, and distances between urban areas.
Council will request clarification on the issues raised in the report when formal feedback is sent to Government next week.
Read the report
Our position statement
To put it simply, we are very cautious.
We agree with Government that the status quo isn't an option, especially if we consider our growth and water initiatives such as Te Mana o te Wai, National Policy Statement Freshwater Management (NPSFM), the repeal of the Resource Management Act.
These things mean big changes are needed so that our water services meet the needs of our community and the new regulatory obligations. There are going to be future costs to Council as a water provider, and to our communities at a level we have never had to plan or budget for.
The average ratepayer in our rohe pays $990 per year towards three waters services in their rates. The Government is telling us that without these reforms, by 2051, this will increase to $8690 each per year. Government proposes that with the reform, the amount would be $1260. Here's a link to the Internal Affairs dashboard
We're working hard to understand this modelling and we've commissioned an independent report to look closely at the impact of the reforms for our people. This report will be available at the end of this month and will give us more clarity on these figures.
With Tairāwhiti grouped with much larger regions like Wellington, we're very concerned that the voice of our community and our iwi partners will be lost. We've seen many times before how smaller regions suffer when services are centralised. We need to make the best decision for everyone in Tairawhiti and we want to know that the needs and voices of our people will be heard.
Have your say on the three waters reform
The Government has requested feedback on their proposal. To support our feedback to them, we would like to know what you think.
Tell us on the feedback form before 12noon Monday 27 September.
LGNZ have some questions and answers that help explain the three waters reform
Here's the top 11 questions and answers including who would own the water asset under the reform process.
Feedback form