Kiwa Pools is a modern multi-purpose pool facility the whole community can enjoy.
It replaced the aging Olympic Pool Complex, that closed to the public on Sunday 20 August.
Kiwa Pools is built where part of the current pool complex sits and also on part of Churchill Park.
Kiwa Pools facilities
There are 3 inside pools - the multi-purpose 50m pool, a leisure and toddler's pool and a learn to swim/hydrotherapy pool.
| | |
| --- | --- |
| » 50m x 20m multi-use pool with moveable floor* | » Good access for people with disabilities |
| » Leisure and toddler's pool | » The Rising Sun Cafe |
| » Learn-to-swim/hydrotherapy pool | » Event hire room for birthday parties or meetings |
| » hydrotherapy pool suite with hoist** | » Secure storage for visitors' gear |
| » Large pool deck that allows plenty of event seating | » Indoor change rooms includes family change areas |
* a moveable floor so more sports can be played. It includes a bulkhead so the pool can be divided in 2.
** hydrotherapy suite includes a purpose-built pool, 2 treadmills and 2 bikes for health professionals to provide water therapy sessions for their clients. The area's self-contained with its own changing room and a hoist can operate from the change area to the pool.
The existing facilities have been retained as part of the complex, and open in summer, - the 33m outdoor pool, outside toddler's pool, dive pool and hydroslide
The name Kiwa Pools
The name Kiwa Pools has been gifted to the complex by partners Ngāi Tāwhiri hapū, reflecting the history and traditions of the people of Tūranganui-a-Kiwa and the story of the land where the complex is located.
Our place
Kiwa Pools sits on the shores of Te Moana Nui a Kiwa, the Pacific Ocean, and remind us of our ancestors that came to settle this land in their sea-faring vessels. It's a nod to the strength and resilience they possessed.
Turanganui-a-Kiwa Gisborne is significant in our nation's navigation and settlement histories. Close to the place Kiwa Pools stands is a landing spot of the Horouta waka on which Kiwa was the navigator. The captain of the Horouta was Paoa and his sister Hinehākirirangi brought the kumara with her to our region and this began our agricultural heritage.
Kiwa Pools will be in line of sight of Te Kuri a Paoa - Young Nick's Head, which was the landfall spotted by the watchman aboard the Endeavour.
Turanganui-a-Kiwa is said by some to be the birthplace of our nationhood.
Kiwa Pools is largely Government funded with a budget of $46 million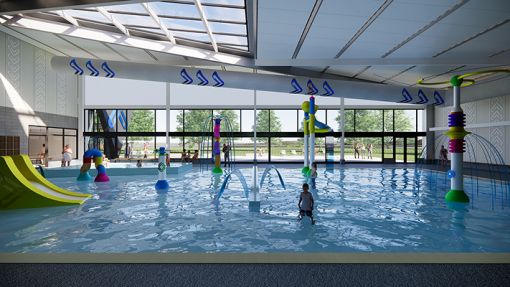 We're grateful for the Government's $40m funding for Kiwa Pool, that was part of it's nationwide Infrastructure Reference Group funding in 2020.
Council contributed $5.65m towards the project.
The Olympic Pool redevelopment had been a project in our Long Term Plan for many years.
This massive project comes after many years planning. In 2017 a business case assessed the level of investment needed. Consultation on preferred options followed as part of the 2018-2028 Long Term Plan.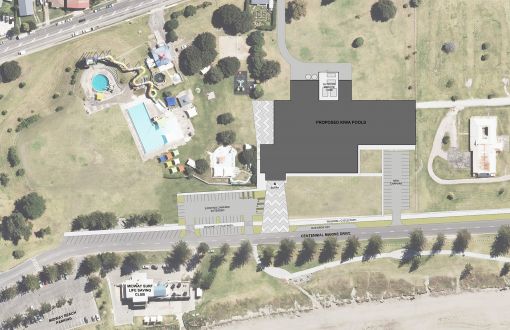 About the build
Council, Ngāi Tāwhiri and Apollo Projects formed the co-design team with Apollo Projects managing the overall design and build project.
A change in location for the new pool hall was announced in March 2021. Relocating the indoor facility alleviates challenges associated with rebuilding over the top of an existing and aging network-critical sewer pipe. It respects the position of mana whenua with regard to the cultural and spiritual issues associated with human waste.
Sir Derek Lardelli of Lardelli Arts has worked with Architecture HDT and Apollo Projects ensuring our cultural narrative is woven into the design of Kiwa Pools.
More information about the project
Gisborne's pool complex was first built in 1974. Like many other public pools of that era, it was originally designed as an outdoor facility used only during the warmer months.
As would be expected for a facility of this age and location, over time there's been a growing list of major maintenance issues that need to be addressed. This combined with the changing demand for aquatic recreational facilities, means the current facility was no longer ideal.
Q&As about the build
No, the Government provided the funding to Gisborne specifically for the construction of Kiwa Pools.
The Olympic Pool renovation project was one of several projects for which Gisborne District Council submitted a funding application to the Infrastructure Reference Group (IRG) for Covid-19 recovery funding.
The IRG received just under 2000 submissions nationwide including another 8 funding applications from Council in areas like flood control and wastewater, as well as the pool redevelopment submission.
Government ministers decided which projects to progress and considered advice from the IRG.
Once a project was selected for funding, the money could only be spent on that project.
1974 - opening of the Gisborne Olympic Pool Complex
1983 - 98m hydroslide added
1992 - BBQ and entertainment areas developed
1994 - toddlers pool slide added
1995 - main pool - canopy structure – commencement of all year use
1996 - spa and hot pools installed
1997 - 'bulkhead' pool divider installed in main pool
1999 - alterations to administration block
2002 - new children's playground installed
2002 - major repairs to fix leaks in 50m pool
2007 - added accommodation (8 bunk bed cabins)
2007 - Gisborne earthquake caused some damage to outdoor pools
2008 - Accredited with 'PoolSafe' status
2009 - leaking pools repaired (earthquake damage)
2009 - installed 4 designated BBQ areas
2010 - installed new 400kW wood chip boiler for pool water heating (replacing gas boiler)
2010 - Whanau Fun Day event attended to by 2000+ people
2011 - PoolAlone initiated (dealing with unsupervised children at the pool complex)
2012 - renovation of pool canopy structure
2014 - upgraded filtration system to improve water quality. Shade sails and canopy installed.
The Gisborne Olympic Pool Complex is a true community pool; many great fundraising efforts were held in the community and donations were made by various trusts and groups, which greatly assisted Council to establish this facility in 1974.
Like many other public pools in New Zealand, our facility was build in the early 1970s as an outdoor facility, to be used for the summer season only and shut down in winter.
Over the years, the demands for aquatic activities grew and new facilities were added.
Today, over 150,000 visits to the facility are recorded every year.
Kiwa Pools facilities
A moveable floor allows us to futureproof the 50-metre pool for more users.
It will accommodate a greater number of sports to be played in the pool and the opportunity to host more events.
It's also a huge advantage for elderly and those with disabilities and gives us more flexibility for different users to be in the pool at the same time.
The moveable floor and moveable bulk head allows recreational use and sporting use in the main pool at the same time.
The movable bulkhead allows the 50m pool to turn into a multipurpose aquatic area so different activities can happen at the same time.
Staff can activate the motorised bulkhead to move from the centre of the pool to the southern end.
It takes about 12 minutes for the bulkhead to complete its journey and create a 50m pool.
The pool is actually 51.5m long allowing for the 1.5m wide bulkhead to sit at one end without compromising the pool length.
Generally, the pool will be configured as two 25m pools, with the bulkhead in the middle.
We're building a community aquatic recreation facility, not an event-based facility.
However we can still play host to FINA-compliant regional competition swimming, water polo, canoe polo, and national surf lifesaving events.
The pool is designed to be a flexible facility that can support other water based sports that may emerge in the future.
Energy usage for the aquatic facility will be supplemented by $810,000 of solar panels. This was funded through last year's second tranche of the Government's Three Waters' Better Off Funding.
The solar panels will provide a sustainable energy source for this facility.
This will reduce our reliance on non-renewable sources, improve energy resilience and keep operational costs of the new complex as low as possible.
The wood chip heating system will be retained as a back up system.
The 50m covered pool and administration building will be demolished as soon as the new complex opens.
The space will then be grassed. In the future this area may be redeveloped to support more recreational activities.
About the Learn to Swim provider
When Kiwa Pools opens in September, Belgravia Leisure will be the Learn to Swim provider.
Belgravia Leisure is a community focused organisation. They already work with 9 councils to operate 22 venues across New Zealand where local employment and investment is critical to serving each community.
They take a local-first approach, where they help their partners create venues that locals want by tailoring facilities, services and programmes to the market.
They hire local staff, engage local suppliers and keep local economies healthy by adopting sustainable environmental practices and investing in resources from the area.
Council carried out a public Request for Proposal (RFP) process, that enabled any provider to submit a tender.
Assessment of the tenders included a panel of 5, who individually assessed and scored both proposals in alignment with our Procurement Policy and Guidelines.
Our Procurement Policy and Guidelines set out the core principles, objectives and the procurement process for any tenders Council undertakes. These and other resources are available on our website to guide anyone wishing to enter a tender process.
Under our Procurement Policy, weighting is given for a local provider.
While the process is confidential and we cannot disclose the merits of each proposal, the outcome of the evaluations by the panel was unanimous in selecting Belgravia Leisure's proposal as meeting the requirements of the RFP.
This is 3-year contract.
It starts from the date Kiwa Pool opens in September 2023, with 2 rights of renewal of 3 years.
Council's tender was for a 'Kiwa Pools Aquatic Education (Learn to Swim) provider with selection based on evaluation using Council's fair and transparent tender process.
Belgravia Leisure's 'Swim Tangaroa' programme (Learn to Swim) offers water safety lessons that empower students to think, discuss and make informed decisions while having fun in and around water.
Lessons are tailored to NZ kids and focus on contemporary experiential and activity-based learning, encouraging and supporting students to explore pathways into competitive and recreational lap swimming.
'Swim Tangaroa' brings additional benefits to our community:
Free swimming lessons every year for 80 tamariki from lower socio-economic groups.
Full immersion and bilingual te reo learn to swim lessons.
Integration of tikanga such as creating a community network forum.
Discounts to those with community services cards.
Individual pricing for specialized groups.
Land-based water safety programme for groups.
With the support and knowledge of their parent company in Australia, the small community-orientated NZ team will deliver a community focused Learn to Swim programme. This will grow and change as a result of feedback via community special interest groups and community forums held twice yearly.
Belgravia Leisure will also introduce the Belgravia Foundation Aotearoa to Kiwa Pools, a registered charity that will fundraise through local community events to reinvest the funds back into the community.
The new Learn to Swim programme at Kiwa Pools, will complement other programmes teaching our tamariki to swim that are already on offer in our region.
No. Squad training will continue to be provided by Comet.