We're building Kiwa Pools - a modern multi-purpose pool facility the whole community can enjoy. It replaces the aging Olympic Pool Complex on Centennial Marine Drive.
Kiwa Pools is being built where part of the current pool complex sits and also on part of Churchill Park.
The name Kiwa Pools
The name Kiwa Pools has been gifted to the complex by partners Ngāi Tāwhiri hapū, reflecting the history and traditions of the people of Tūranganui-a-Kiwa and the story of the land where the complex is located.
Our place
Kiwa Pools sits on the shores of Te Moana Nui a Kiwa, the Pacific Ocean, and remind us of our ancestors that came to settle this land in their sea-faring vessels. It's a nod to the strength and resilience they possessed.
Turanganui-a-Kiwa Gisborne is significant in our nation's navigation and settlement histories. Close to the place Kiwa Pools will stand is a landing spot of the Horouta waka on which Kiwa was the navigator. The Captain of the Horouta was Paoa, and his sister Hinehākirirangi brought the kumara with her to our region and this began our agricultural heritage.
Kiwa Pools will be in line of sight of Te Kuri a Paoa - Young Nick's Head, which was the landfall spotted by the watchman aboard The Endeavor.
Turanganui-a-Kiwa is said by some to be the birthplace of our nationhood.
Kiwa Pools facilities will include:
These existing facilities will be retained as part of the complex
33m outdoor pool
outside toddler's pool
dive pool
hydroslide
New facilities include
| | |
| --- | --- |
| » 50m x 20m multi-use pool with moveable floor* | » Large pool deck that allows plenty of event seating |
| » Leisure and toddler's pool | » Learn-to-swim pool that doubles as a hydrotherapy pool with hoist |
| » Indoor change rooms, includes whānau change areas | » Event hire room |
| » Cafe | » Secure storage for visitor's gear |
| » Good access for people with disabilities | » Admin offices |
* Kiwa Pools features 3 inside pools including the multi-purpose 50m pool with a moveable floor so more sports can be played. It includes a bulkhead so the pool can be divided in 2.
Kiwa Pools is largely Government funded with a budget of $46 million.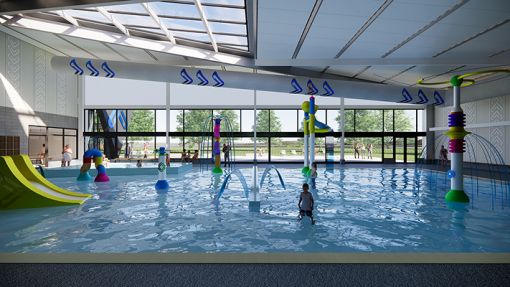 The Government's announcement in 2020 of $40m towards the Olympic Pool redevelopment as part of its nation-wide shovel-ready stimulus package was a cause for a celebration.
Council has committed the remaining $5.65m to the $46m project.
This massive project comes after many years planning. In 2017 a business case assessed the level of investment needed. Consultation on preferred options followed as part of the 2018-2028 Long Term Plan.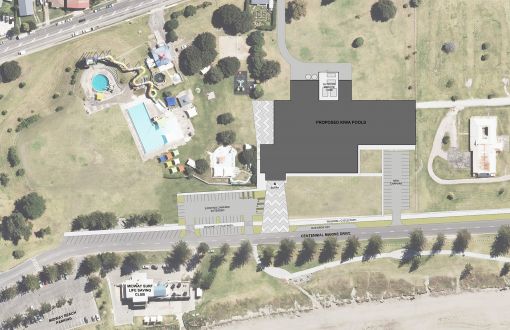 About the build
Council, Ngāi Tāwhiri and Apollo Projects form the co-design team with Apollo Projects managing the overall design and build project.
Building the new outside toilet and changing room facilities started in early 2021.
A change in location for the new pool hall was announced in March 2021. Relocating the indoor facility alleviates challenges associated with re-building over the top of an existing and aging network-critical sewer pipe. It respects the position of mana whenua with regard to the cultural and spiritual issues associated with human waste.
Apollo Projects was announced as the design and build partner in May 2021 with a contract signed between Council and Apollo in July 2021.
Sir Derek Lardelli of Lardelli Arts has worked with Architecture HDT and Apollo Projects ensuring our cultural narrative is woven into the design of Kiwa Pools.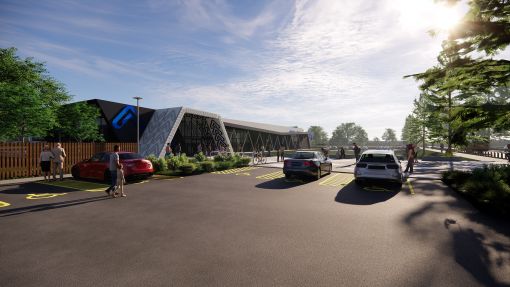 Recycle and reuse material
Through the demolition we'll work with contractors to ensure that where possible we can recycle and reuse waste material.
Some pool equipment, plant and infrastructure can also be recycled.
For example the lane ropes and pool covers from the 50m pool may be retrofitted for use in the outside 33m pool.
We'll store and re-purpose shade sails removed during construction.
More information about the project
Gisborne's pool complex was first built in 1974. Like many other public pools of that era, it was originally designed as an outdoor facility used only during the warmer months.
As would be expected for a facility of this age and location, over time there's been a growing list of major maintenance issues that need to be addressed. This combined with the changing demand for aquatic recreational facilities, means the current facility is no longer ideal.
No. Government provided the funding to Gisborne specifically for the construction of Kiwa Pools.
The Olympic Pool renovation project was one of several projects for which Gisborne District Council submitted a funding application to the Infrastructure Reference Group for Covid-19 recovery funding.
The IRG received just under 2000 submissions nationwide including another 8 funding applications from Council in areas like flood control and wastewater, as well as the pool redevelopment submission.
Government ministers decided which projects to progress and considered advice from the IRG. Once a project was selected for funding the money can be spent only on that project.
Large scale social assets like libraries, museums and pools make a key contribution to community wellbeing - but they're expensive to build and renew.
Pool redevelopment was always going to be expensive and in the past estimated costs have risen from $14-$17m in 2016 to $46 million this year.
During that time we asked more questions of user groups, designers, geotechnical experts and construction professionals and now we better understand what's involved with developing the site. That combined with challenging ground conditions, rising material, fuel, and labour costs, as well as pressures from Covid-19 lockdowns, has increased the price of delivering the project.
The existing 50m covered pool will be safely removed towards the end of 2023 and the space left behind will be grassed.
In the future this area may be redeveloped to support more recreational activities.
We're looking to markedly increase use of the Kiwa Pools by ensuring it offers a range of recreation and sporting opportunities to the wider community.
To achieve this we're mindful of keeping entry costs affordable.
We're working on developing the operational model for the pool, which will include the pricing strategy.
Q&As about the pool facilities
A moveable floor allows us to futureproof the new 50-metre pool for more users.
It will accommodate a greater number of sports to be played in the pool and the opportunity to host more events.
It's also a huge advantage for elderly and those with disabilities and gives us more flexibility for different users to be in the pool at the same time.
The moveable floor and moveable bulk head allows recreational use and sporting use in the main pool at the same time.
The movable bulkhead allows the 50m pool to turn into a multipurpose aquatic area so different activities can happen at the same time.
Staff can activate the motorised bulkhead to move from the centre of the pool to the southern end.
It takes about 12 minutes for the bulkhead to complete its journey and create a 50m pool.
The pool is actually 51.5m long allowing for the 1.5m wide bulkhead to sit at one end without compromising the pool length.
Generally, the pool will be configured as two 25m pools, with the bulkhead in the middle.
We're building a community aquatic recreation facility and not an event-based facility.
However, we can still play host to FINA-compliant regional competition swimming, water polo, canoe polo, and national surf lifesaving events.
The pool is designed to be a flexible facility that can support other water based sports that may emerge in the future.
It will remain as a back up system in the same way as it's being used now.
Improved energy efficiency is one of the requirements of the design for the indoor facility.
About the other facilities on the site
It's been relocated along Centennial Marine Drive, at the intersection of Stanley and Awapuni roads.
These facilities were operated by the Top 10 Waikanae Beach Holiday Park and were mainly used by schools and large groups.
The buildings are to be repurposed. The cabin block has been stored onsite while we go through a process to repurpose them.
Parking will be significantly increased to around 100 parks in a main car park accessed from Stanley Road.
There will be limited parallel car parks available along Stanley Road.
During events and peak times, there'll be a grassed parking area available.
Council, Ngāi Tāwhiri and Apollo Projects form the co-design team with Apollo Projects managing the overall design and build project.
Apollo Projects is a nation-wide company specialising in design and construction of sports, aquatic and educational facilities.
By using Apollo, Council has leveraged off the company's experience and talent and locked in pricing early thereby avoiding cost escalation risks.