The Gisborne / Tairawhiti region is vulnerable to tsunami of any size at any time, it's crucial that you have a plan and know what to do.
This modelling is based on a big earthquake such as an 8.9 magnitude centred in the Hikurangi subduction zone, off East Cape
If an earthquake's long or strong - get gone. Head to higher ground or as far inland as possible.
Don't wait for an official warning.
Online tsunami maps
Evacuation routes for Gisborne city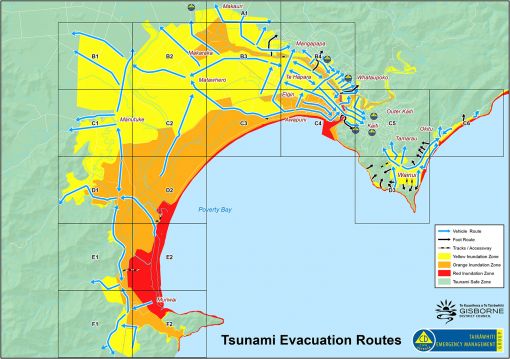 What the red, orange and yellow zones mean
Note: All zones must evacuate immediately in a Long or Strong earthquake.
Red zone = this is the highest risk zone and the first place people should evacuate from in all types of tsunami warnings (natural or official, generated locally or distant).
This zone is likely to be inundated by a tsunami generated by a distant earthquake as far off as Chile. There may be many hours before the inundation hits and no natural warning.
Orange zone = is the area evacuated in most, if not all distant and regional-source official warnings.
This zone is likely to be inundated by a tsunami generated by an earthquake as close as the Kermadec Islands. It could take more than one hour for the inundation to hit and there may be no natural warning.
Yellow zone = local threat, you will feel it and have minutes to evacuate.
A big earthquake such as an 8.9 magnitude centred in the Hikurangi subduction zone (off East Cape) will be long, strong and means get gone.
Detailed evacuation routes by grid area
Evacuation areas from Muriwai to East Cape
Local and distant - tsunami warnings
A locally generated tsunami will follow a very strong felt earthquake or a long slow earthquake.
Use the natural signs as our warning, self-evacuation is the only option.
If an earthquake is long or strong, get gone – long (one minute or longer) – strong (hard to stand up) – move quickly to higher ground or go inland.
All of the maps have both local and distant evacuation zones on them. You only need to get clear of the evacuation areas not miles inland or on top of the highest peak. If you're on a part of the coast that isn't covered by one of the maps and you're evacuating you should get as far inland or as high as you can within a 20-30 minute time frame (that's walking quickly not driving).
If you can take a transistor radio you can listen for the all clear or otherwise you should wait 2 hours before returning home - if no tsunami has been generated.
The only real credible threat from a distant tsunami to Gisborne communities is from Chile/Peru with around 11-15 hours warning.
The primary means of warning people to evacuate will be by door knocking in the areas identified in the maps.
Authorities will have between 10-12 hours to do this. Those at risk will be advised by Civil Defence volunteers, Police and Fire & Emergency NZ. There will also be information on our local radio stations and on the Civil Defence web page.
It's possible that evacuations for a distant event could last for 10-12 hours, as there are many surges in a distant tsunami event. If inundation does occur then some areas may be closed for sometime.
The maps define areas in coastal communities that are part of the planned evacuation areas for a distant and local tsunami.
Videos of tsunami inundation
These videos show tsunami inundation based on an 8.9 magnitude earthquake in the Hikurangi subduction zone, off the East Coast.
Gisborne city tsunami inundation modelling
Wainui tsunami inundation modelling
Makorori tsunami inundation modelling
Tolaga Bay tsunami inundation modelling
Tokomaru Bay tsunami inundation modelling
Hicks Bay Wharekahika tsunami inundation modelling
Tsunami inundation report