Gisborne District Council has adopted a new Freedom Camping Bylaw 2021 which includes restricted seasonal camping. This replaces the previous summer camping rules.
Seasonal camping areas are closed and will open Labour weekend.
The content on this page will be updated soon. In the meantime refer to our 2021 Freedom Camping Bylaw
Sorry we don't take reservations for any campsites.
You can't claim a campsite by pegging out a tarpaulin. You must be onsite using an approved structure to be a permitted campsite.
You need a chemical toilet for every 8 people on site. Buckets with lids are not acceptable as a toilet.
Inspectors patrol all campgrounds.
You must have a chemical toilet - one toilet for every 8 people.
Open fires are prohibited at all locations, you must have gas for cooking.
Drinking water is not available at any camping site, you must provide your own water.
No semi-permanent structures.
Do not attach any structure to any tree or shrub.
All vehicles on your site must have a current registration and warrant of fitness.
Keep a distance of 2.5m between each campsite for fire safety.
Don't block any accessway.
You must have a chemical toilet - one toilet for every 8 people.
Dispose of your waste in the facilities provided, or take it with you.
Open fires are prohibited, you must have gas for cooking.
At Pouawa and Turihaua - no tent or caravan is allowed within 10m of the edge of the road, and no vehicle within 5m of the edge of the road.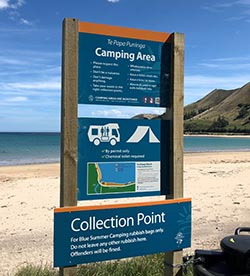 We encourage you to recycle at the nearest recycling centre.
Do not leave rubbish bags on the roadside. Take your issued rubbish bag to the signposted collection point.
Rubbish is collected in the mornings on Mondays and Fridays. Also Wednesdays during the peak Christmas / New Year period.
Your dog is allowed at your camp site, but for the safety of other campers they must be under your control.
You must pick up and dispose of your dog's droppings.
We will impound any wandering dogs.
All coastal areas in Gisborne-Tairawhiti are vulnerable to tsunami.
If you feel a strong earthquake that makes it hard to stand up, or a weak rolling earthquake that lasts more than a minute - you should get as far inland or as high as you can within 15 minutes (that's walking quickly not driving).
If you can take a transistor radio, listen for the all clear or otherwise you should wait 2 hours before returning to your camp, if no tsunami has been generated.
Beaches are public places, therefore all road rules apply:
No riding on the dunes, do not damage vegetation or cause erosion.
Be courteous to other beach users.
Don't create new tracks - use the established tracks.
Be careful of marine wildlife.