Camping at Waihau Beach - Loisels is open until 1 May.
You must have a permit before you set up camp. Apply here online
There's no charge for a permit. You must comply with all the conditions on the permit and in the bylaw.
You need to manage your own rubbish.
Camping is allowed in tents and vehicles - chemical toilets are required.
About Waihau Beach
Waihau Beach also known as Loisels, is approximately 42km from Gisborne city.
The camping area is 6km from the state highway turn-off, at the northern end of the bay at the end of Waihau Road. Note the road is vary narrow in parts.
Excellent surfing, fishing, diving and swimming.
We do not recommend swimming in the lagoon, if it forms, as it often has poor water quality and the bacteria can make you sick.
Where you can camp at Waihau Beach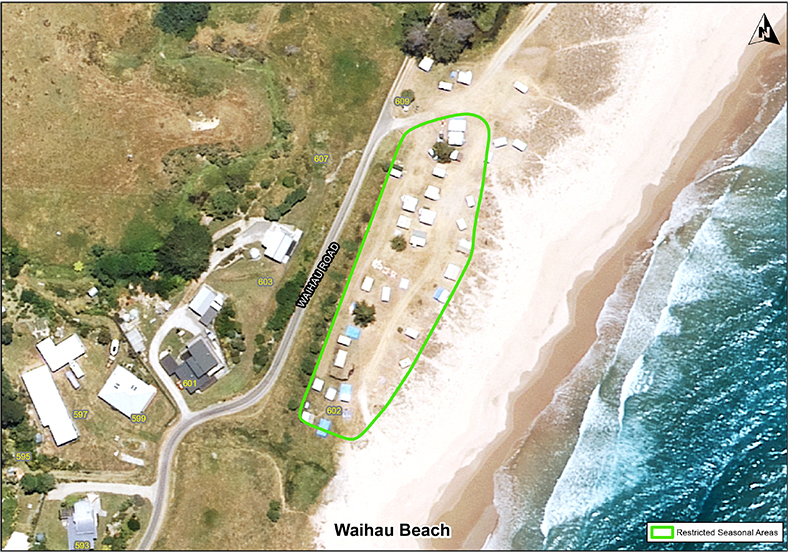 Rubbish and recycling
We encourage zero waste.
You need to manage your own rubbish. No bags are issued with permits so you need to take your own.
You're responsible for taking your rubbish away with you. The closest transfer station to sort your rubbish and recycling is Tolaga Bay or Gisborne city - see opening hours
Do not put rubbish bags on the roadside, this is illegal dumping.
Restricted, temporarily closed and prohibited camping areas