Why are marine pests a problem?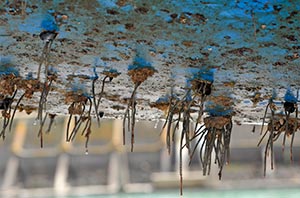 Marine pests can out-compete native species for food and space, impacting and threatening marine ecosystems and biodiversity.
Fouling caused by invasive pests can weigh down hulls and become problematic for both marine structures and native habits.
Boat hulls and bilge waters are just some of the pathways invasive species can travel between regions.
Marine pests are a real threat to the coastlines we love. Stopping them arriving is a big ask, but we can work together to limit their spread.
Marine pest rule for Gisborne district
All vessels entering Gisborne district waters must be sufficiently cleaned and antifouled so that they have no more than a slime layer on the hull.
Rule 1.04 of Gisborne District Council's Regional Pest Management Plan
This rule is strictly enforced and we may request your antifouling documentation.
To avoid any hold ups, or being turned away it's best to provide your antifouling certification before you arrive.
You can email this to our Gisborne harbourmaster or phone MPI on 0800 80 99 66.
Target pest species
These organisms are classified in our pest management programmes in our district's Regional Pest Management Plan.
Clubbed Tunicate (Styela Clavia)
Mediterranean Fanworm (Sabella Spallanzannii)
Undaria (Undaria Pinnatifida)
Clubbed Tunicate (Styela Clavia)


A brown leathery looking stalked ascidian that grows in very high densities. Low intertidal to a depth of 25m, forms on permanent marine structure, boat hull and floating platoon, reef and coastline. Made of 2 closely spaced siphons at the top of the body, surrounded by wart like projections.
Spread by vessel movement and also equipment used for aquaculture. Capable of growing on other organisms, the tunicate outcompetes native and fisheries species and contributes to fouling.
Status: Listed in our Exclusion Management Programme in our RPMP.

Mediterranean Fanworm (Sabella Spallanzannii)


Marine segmented worm living inside a tube which is usually fixed to a hard surface. It can grow to over 40cm high and can often have other organisms growing on the surface. The tube is tough and flexible and often muddy in appearance.
The worm has a single spiral fan (radiole) which extends out of the top of the tube. The fans are white, banded brown and orange, with an orange central stem.
Is typically found on boats hulls, harbours and estuaries, living in depths up to 30m. Sabella can forms dense colonies that can out-compete native species and cause fouling problem on structures and boat hulls.
Status: Listed in our Eradication Management Programme in our RPMP.

Undaria (Undaria Pinnatifida)


Undaria seaweed is an annual aquatic, golden brown with a midrib and a divided frond. The main frond has a central mid-rib running the length, with many finger like leaves. From low inter-tidal to sub-tidal depths of 15m, it grows on any hard surface, wharf piles, ship hulls, seawalls, reefs and other artificial structures and forms dense forests. Undaria has a hold-fast, a stripe (stem) and a sporophyll – spiral, folded reproductive structure which produces many spores. At only 50 days old, Undaria is mature enough to reproduce. Spread of Undaria will smother native seaweed, commercial and recreational fisheries and natural environment.
Status: Listed in our Progressive Containment Management Programme in our RPMP.
Think you've found something?
If you suspect you may have found a pest hitching a ride, please tell us.
It's important you don't attempt to remove it, just record where you've found it and take a photo if you can.
Contact us to report it and talk to our biosecurity team.
What we're doing
Our biosecurity team routinely survey the marina with a team of experienced biosecurity divers, but we can't do it alone.
Our region's supported by other councils, together forming the 'Top of the North Marine Biosecurity Partnership'.
We also rely on you, the boaties, industry and beach loving locals to get involved.