This school bus service is for students to get to school from one side of the city to the other.
Rural school bus
The rural school bus service is provided by Ministry of Education.
Contact GoBus or the school for information about the rural school bus services.
Cost to ride the waka kura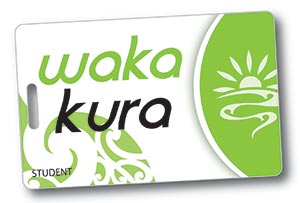 The price one-way - $1.10 cash, $1.04 smartcard.
To make it easy buy a smart card, download the Transportme App to top up and track the bus.
Buy your smart card from the GoBus office at 34 Banks Street.
Catch the waka kura
Gisborne Girls High, Gisborne Boys High, Lytton High, Nga Uri A Maui, Gisborne Intermediate, Campion College and St Mary's each have 2 buses dedicated to their student's timetable.
Waka Kura Timetable PDF, 395.95 KB for routes and stops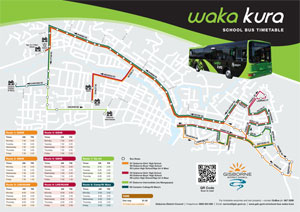 For any queries about the timetable - contact GoBus ph: 8675290
Please contact GoBus ph: 8675290
We welcome all feedback. Please tell us by using our online form **INSERT LINK**
About the bus service
This service is managed by GoBus under contract to Gisborne District Council. The 8 buses are 57 seater, low-floor easy access buses, branded with our new school bus brand.
The routes were designed in partnership with local high schools and other agencies. The service is to help lower truancy numbers and reduce congestion on our roads at school times.