What causes our city's wastewater network to overload in heavy rain?
Why do emergency discharges happen?
What is stormwater and wastewater?
Stormwater is rainwater that runs off hard surfaces like your roof and driveway. Stormwater doesn't go to the treatment plant, it just flows straight into the nearest stream or river.
Wastewater commonly known as sewage, is the used water and waste from your home's kitchen, bathroom, laundry and toilet. It's also the used water from industry. This water is piped to the treatment plant.
What causes emergency discharges in heavy rain?
Gisborne city's wastewater network and stormwater network are separate systems.
During intense or heavy rainfall, some parts of the city's wastewater network gets inundated with stormwater and the network can't cope with the volume of water going through it. It then causes wastewater to overflow onto private properties and out of manholes onto roads, causing health risks to people.
To prevent this from happening, Council has to let the excess water out of the wastewater network. The only way to do this is to open valves and discharge wastewater into the river. The discharge is highly diluted with rainwater, but there's still a risk to health.
We seriously consider all options before we open the valves and discharge wastewater into our city's rivers. It's only done when it's absolutely necessary and only in the areas with issues in the network. The decision to open the valves is left until the absolute last minute when there's no other option.
Who owns all the pipes and network?
The city wastewater network has been designed and built to manage the wastewater needs of households and businesses for growth over the next 30+ years.
It's important to know that Council only owns and manages half of the wastewater network. The other half is owned and managed by individual property owners.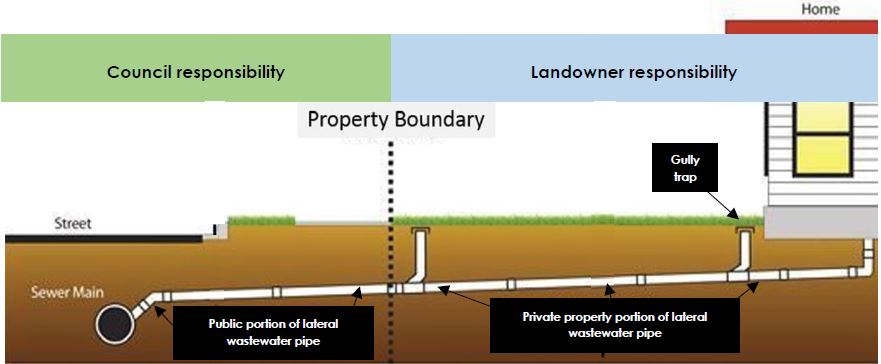 You are responsible for the pipes that run from inside your house out to your property boundary.
At your property boundary your pipe (lateral) joins into the city's main wastewater network, which Council is responsible for.
Council's half of the wastewater network includes:
223km of mains pipes (that's about the same distance from Gisborne to Napier)
2806 manholes
40 pump stations and the wastewater treatment plant.
For several years, we have focused on fixing and improving our part of the wastewater network by:
Increasing the size of our wastewater pipes where they're under capacity.
Upgrading our stormwater network to manage larger flood events.
Replacing our leaking wastewater pipes and access points.
What's the problem?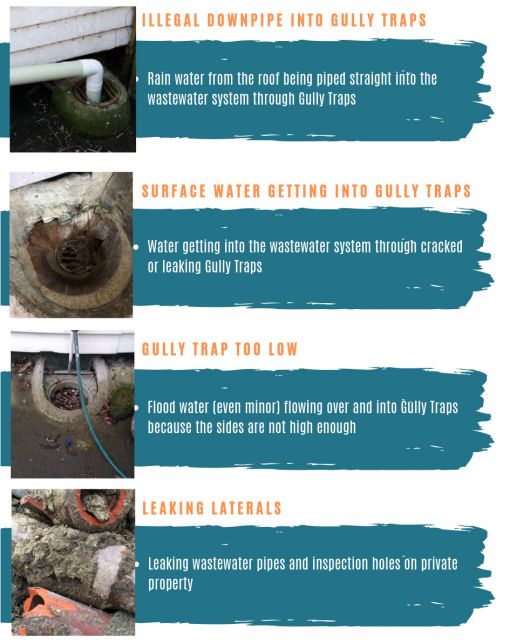 These are the problems
Stormwater gets into the wastewater network and floods it.
We have to get that excess stormwater out of the wastewater network by discharging it to the river. If we don't discharge it, wastewater overflows into people's homes and out through manholes on the street, which can create health risks to people.