The Tairāwhiti Mayoral Relief Fund and Disaster Relief Trust provide financial support to residents who have been affected by Cyclone Gabrielle. This one-off grant provides for damage or hardship incurred as a result of the cyclone.
This fund is to help communities, individuals, families, community organisations get immediate access to funds to assist with recovery. It provides a one-off payment to help alleviate damage or loss experienced due to the flooding, prolonged power outages and landslips.
Applications closed 5pm Thursday 27 April 2023
Mayoral Relief Fund and Disaster Relief Fund Trust summary
Updated 30 June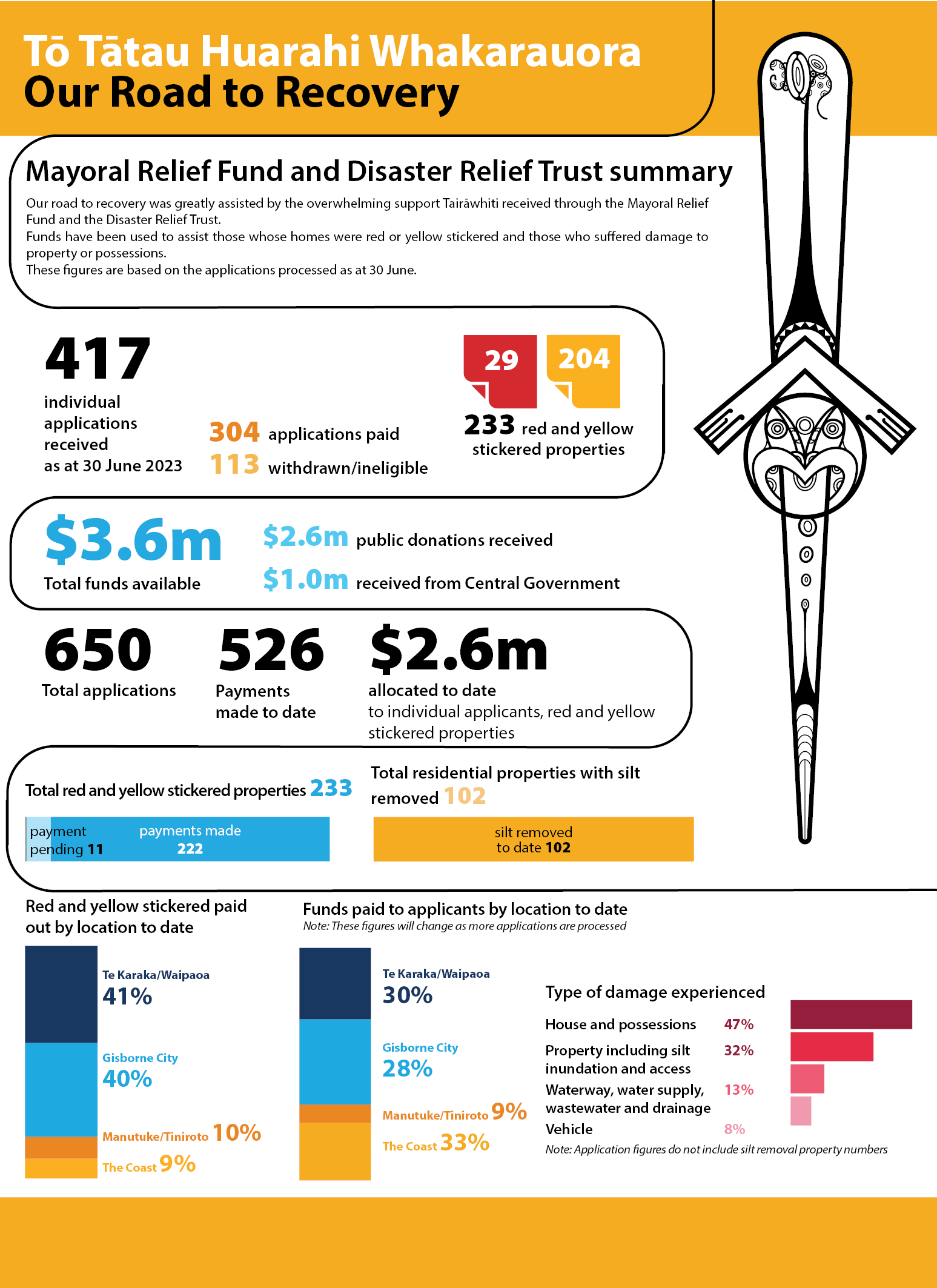 The fund was only available to those affected by the severe weather in January and February 2023.
A number of other agencies have funding available, our advice was to investigate all other available sources before applying to this fund. Applicants may be referred to other agencies where it better meets their funding criteria.
Applications will be considered by an advisory group, who will then make a recommendation to the Mayor for approval and allocation.
The criteria for this fund:
An individual, community group or family impacted or have suffered loss due to Cyclone Gabrielle.
Experiencing hardship as a result of the cyclone at the time you apply.
A resident (owner/occupier or occupier) in one of the worst hit areas of Tairāwhiti at the time of the event and your financial costs are not covered by any other source such as insurance, or by another agency or fund such as MSD.
You may still be eligible if alternative funding assistance has not substantially reduced the financial loss or hardship suffered. Although fund payments are not designed to be made as duplication of insurance pay-outs, it could be that you request funding in order to cover the insurance excess.
Only one application per property will be considered.
What can I claim for?
The fund will mainly be used for: repairs to residential dwellings; dealing with septic tank overflow; filling water tanks; clearing debris from properties; supporting individuals/families faced with hardships as a result of this emergency; assisting with basic needs such as clothes, bedding, where there is no insurance cover; essential items and household goods; essentials of daily life such as accommodation, utilities or extra financial costs not covered by insurance or other funds such as WINZ, EQC.
How much can I apply for?
To ensure the funds are not depleted immediately and to enable fair and consistent grants to get to a large number of people, the maximum amount for applicants will be:
$2,000 for community groups
up to $20,000 depending on extent of damage and exceptional circumstances.