The focus for the Tairāwhiti recovery is to support and encourage communities/iwi to be at the forefront of developing the priorities for recovery in their areas.
We'll assist with their planning where needed, and then put together an overarching regional plan based around the 4 focus areas. More than anything it's also about ensuring we have resilience in any re-build efforts.
We're engaging with community leaders to work with them on developing priorities for recovery in their areas.
Working closely with Trust Tairāwhiti we're looking at what's needed in the economic recovery space. Also liaising with government departments to ensure work towards developing a regional recovery plan is aligned.
Community-led planning
This is an opportunity for communities to be part of their own recovery planning, if they wish to. Regional recovery plans need to be community-led.
Our team in the Regional Coordination Centre are here to help those communities who would like to lead their own community planning.
It's an opportunity for communities to tell us how they would like their recovery aspirations captured. A successful recovery plan must be shaped by the collective wisdom and perspectives of your community. Your communities short, medium and long term recovery aspirations are vital to informing the regions priorities.
If you're keen for a collaborative approach please register your interest by email and we'll provide more details. There is funding available to support the creation of your community plan.
Some rural communities have started working with our RCC team on their planning and we're keen to hear from other rural communities who wish to develop theirs.
If your rural community is interested in leading their own recovery plan, please contact the team to discuss your options.
For individuals and whānau who require one-on-one support from a whānau connector, please contact us.
For city communities, please register your interest with us and we'll work on the best approach to facilitate opportunities for the city.
Contact the RCC team to register or discuss, email [email protected]
What recovery means
The Civil Defence and Emergency Act requires councils and CDEM groups to carry out recovery. Recovery is one of the 4 'phases' of disasters – reduction, readiness, response and recovery.
As we've come out of the response to Cyclone Gabrielle we're now in the recovery phase.
4 key areas - natural, built, social, economic
Recovery is essentially about the regeneration of a community following a disaster and is focussed on 4 key areas - community and social welfare, the built environment, the natural environment and economic recovery.
The cyclone caused widespread severe flooding, river channel changes, landslides and landslide dams, and the mobilisation of large woody debris which resulted in multiple cascading impacts.
Quantifying those impacts and finding solutions to the issues that arise is a complex task that will take several years.
The impact the enormous volume of sediment discharge from landslides and riverbank erosion has had on the rivers and river flats.
Not only has this sediment damaged crops and inundated houses, but riverbeds may be higher than before which could mean that future storms may result in increased risk of land and dwellings flooding.
We've flown Lidar (Light Detection and Ranging) over the Waipaoa, Uawa and Mangahauini catchments to get detailed elevation data needed before we can undertake new flood modelling for the Waipaoa.
There are many landslides and we are working out how many landslides there were, where they are and how much sediment they delivered to the rivers.
We're undertaking a high level risk assessment of houses impacted by flooding. We're working with the Temporary Accommodation Service on options for temporary housing.
We're assessing our monitoring stations and rain gauges to determine whether we need more.
Understanding and establishing the:
future risks from flooding and riverbank erosion,
area and volume of soil lost from hill country farms,
area of forestry lost due to landslides and the cost of this to the community in future potential damage to infrastructure and the natural environment,
volume of sediment deposited on the flood plains and the impact this will have on agriculture and horticulture as well as future flood risk,
risk to the Gisborne city water supply from landslides
risk to communities from landslide dam breach.
June
Working with MfE on potential orders in council to facilitate recovery as well as finalising a plan change to put in place more stringent controls on forestry on vulnerable land.
Large Woody Debris (LWD) assessments completed at Kanakanaia, Uttings Road and Manders Road.
Flood height measurements of properties in Waimata Valley conducted.
GDC has identified the Waimata Valley as a site that will be appropriate for an MfE-funded feasibility study ($350k) project to identity nature-based solutions and mitigations for future flooding events. The feasibility study will be a collaborative project between GDC, landowners, Iwi, with support from technical experts.
May
Site visits to imminent risk properties in Gisborne City conducted with ongoing monitoring.
Scion engaged to assess loss of net stocked area in water supply catchments as a proxy to establish the reservoir of large woody debris available for mobilization.
Expert panel established for the Mangahauini River have identified a number of key issues related to the dam.
Te Karaka River channel capacity analysis is completed.
Assessing impacts of weather on our whenua to establish future land use.
Assessment of damage to homes, land, rivers, woody debris, and impacts on flora and fauna.
Trials are underway in Uawanui to assess impacts of cyclone on mahinga kai using traditional Maori skills and knowledge.
The destruction of critical transport infrastructure resulted in the isolation of some rural communities, creating a challenge to provide essential services and emergency support. Damaged infrastructure and disrupted access have created both a social and economic impact for both primary producers and the wider supply chain.
Following storms, the emergency sewer valves invariably have to be opened which results in discharges into waterways. This is not an ideal situation going forwards.
Repair of the main water pipeline was vital but ensuring future resilience for the pipeline going forwards is critical.
Damaged stopbanks have been repaired and ongoing upgrades are needed to the whole network.
The number of houses that have been red and yellow stickered has resulted in considerable strain on families and the shortage of temporary housing is hugely problematic.
Council has developed a solution for some of the bridges destroyed in the cyclone with the use of temporary container bridges. These bridges will be constructed out of reinforced shipping containers. Local engineers will undertake the required supporting work before these are transported to site for installation.
Water reinstatement and resilience
Opening of roads or providing temporary access to isolated communities
Repair or replacement of 61 bridges
Silt and slash removal on roads and around bridges
Flood protection
June
51 crews and more than 130 field staff working across the Tairāwhiti local road network to protect roads from river scour, road and bridge repairs, drainage work and removing slash.
Work on 23 bridges needing repairs relies on low river flows and fine weather. There's been some delays on the high profile bridges - Awatere and Makarika #2 bridges due to river flows and heavy vehicles.
10 containers have now arrived, and designs/calculations completed. Work will start soon on fabrication and use for temporary bridges.
Significant progress with the drainage improvements programme - 67% of the planned recovery targets complete across the network.
Achieved 73% of planned water tabling targets.
May
132 active sites (roads or bridges) under temporary traffic management. 74 sites are long term fixes.
86% of the entire network is back to business as usual.
11% of roads remain significantly flood-damaged and 3% of our roads remain closed.
Removing slash from and around bridges. This is up to 20m upstream and downstream of the bridge, this is all Council is funded to remove.
The procurement process has now been completed for those bridges categorised as Black (serious damage), Red (significant damage) and Orange (moderate damage).
Around 32km of the total 64km of Waipaoa stopbanks have been fully upgraded to date.
202 yellow stickered properties, 30 red stickered, 14 at imminent risk.
Silt removal completed for 68 houses with a further 28 pending.
Water pipeline repaired in a record 9 weeks.
The state highways are being repaired and re-built. SH35 bypass around Hikuwai Bridge #1 and the Mangahauini Gorge reopened.
Bridge assessments completed and some temporary solutions underway. The temporary Bushy Knoll Bridge has been installed.
April
Anxiety, fear, isolation and mental health factors all present barriers to individual's and the community's abilities to engage with recovery. Increases in family harm and increased concerns around the destructive behavior in children are being linked to the pressures caused by the cyclone.
Focus is on facilitating and funding initiatives and projects which are focused on building connected and empowered communities. The Rural Support Trust is completing wellness assessments on individuals, by door knocking.
The New Zealand Claims Resolution Service has been meeting and case managing whānau throughout the region.
Remediation of school property and psycho-social support in schools
Support for early childhood education
School and kura leadership support for rural schools
Employment and worker support
Silt removal for yellow and red stickered properties to enable people to return to their houses
Supporting isolated whānau
June
Collaboration with Te Whatu Ora to ensure wrap around psychosocial support is available to property owners who were provided certainty around the categorisations of their properties.
Toitu Housing has progressed access to cabins for temporary housing via the $15M reprioritised through Housing Urban Development.
Large community turnout to wananga in Tokomaru Bay, Waipiro Bay, Te Araroa and Wharekahika where Te Puni Kokiri, RCC, and Ministry of Primary Industries (MPI) collectively engaged on a number of topics including whenua Māori planning, funding availability, recovery progress and process.
Department of Internal Affairs is progressing work on a funders forum, which will include philanthropic funders.
Ministry of Primary Industries has been actively engaged with communities resulting in fuel and fencing supplies provided to isolated communities, residential animal welfare support and supporting the Rural Coordination Group planning refresh.
Rural Support Trust continues to undertake farm assessments and wellness checks. With five roadshows being completed in Hicks Bay, Ruatoria, Uawa, Te Karaka and Warenga-o-Kuri, supported by MPI and Gisborne District Council.
May
Ministry for Primary Industries (MPI) in conjunction with the Rural Support Trust have been hosting events to connect and share information around resources to farmers.
Te Puni Kokiri is undertaking whenua Māori wananga to explore opportunities, barriers for utilising or developing whenua Māori recovery and resilience support.
Ministry of Education, and Te Whatu Ora have been working together to discuss psychosocial support for staff and students.
MSD, TPK, DIA and Red Cross have developed a funding panel to support applications from marae in Tairāwhiti.
MPI has made available to all parts of the primary industries funding to boost health, safety and protect animal welfare, support the wellbeing of rural communities and to assist with the cleanup of woody debris. MPI will distribute the funding to industry partners, community, iwi and other providers.
MBIE TAS have made a number of motorhomes available to those unable to return to their homes.
MSD provided $7m in Civil Defence Payments.
The Rural Support Trust (RST) is completing wellness assessments for rural communities.
Additional counsellors have been brought into schools to help support children with increased negative behaviours.
Campaign underway across Tairāwhiti to understand and assess whanau needs and ensure these needs are meet.
The Ministry of Housing and Urban Development (MHUD) has repurposed existing funding through Toitū Tairāwhiti to use part of their Whai Kāinga Whai Oranga prototype funding to build and deliver 100 temporary homes for impacted whanau.
Recovery in the economic space is complex. Different businesses have been affected in different ways and the timescales for recovery differ across sectors.
Current estimates suggest regional direct losses versus a "no Gabrielle" scenario of $400-500M to businesses over the next 3-5 years.
A total of 877 government business grants have been distributed totaling $7.06M
Analysis and support are focused on 6 sectors: horticulture, agriculture, forestry, SMEs, Māori business, tourism/hospitality/accommodation.
Priority is determining what building back better might mean for businesses in each of the different sectors.
Across horticulture and agriculture, the loss of current and future crops from flooding (reduced yield from the land for several years) accounts for the lion's share of losses. This impacts both orchards and downstream processors.
In forestry - lost work to the crews (around 4-8 weeks in many cases) and lost trees are the largest causes of loss.
SME, Māori businesses and tourism/hospitality/accommodation are more heavily impacted by the loss of road and water infrastructure.
June
Trust Tairāwhiti chaired a workshop with various sectors and government agencies and support groups to identify, following the release of the 2023 Budget. What was available from agencies for specific business sector recovery needs.
There's funding available for the region and businesses, but these don't align with the business recovery needs, and it's hard to associate how businesses will benefit or apply to the funding available.
There's a big gap between the government financial support coming into the region and the total estimated economic losses ($415 - $475M).
Developing a proposal to identify the key priorities for investment for the economic recovery for Tairāwhiti which will align with the loss matrix detailed in previous reports.
May
Trust Tairāwhiti attended hui in communities throughout the East Coast to keep their groups updated about funding opportunities. They have also been working with sector leaders in agriculture and horticulture to identify what support they need.
Road to Recovery - funding request
We requested 2 different funding costs. The first is the funding to help us pay for the immediate rebuild costs in order for our community to be safe and connected after Cyclone Gabrielle. The second is to help us to build the resilience for future events.
In May, we sent our "Our Road to Recovery" plan to Ministers where we asked for the funding needed to recover after Cyclone Gabrielle.
This plan included estimates of the costs required for immediate rebuilding costs as well as the funding required to build future resilience into our recovery.
It was developed based on information gleaned from public sector agencies, Council and iwi in Tairāwhiti in an attempt to summarise the magnitude of our recovery costs.
This is the first phase of our recovery planning for this region.
The second stage involves engaging with the community to determine community priorities for recovery and undertaking meaningful engagement with communities across the region.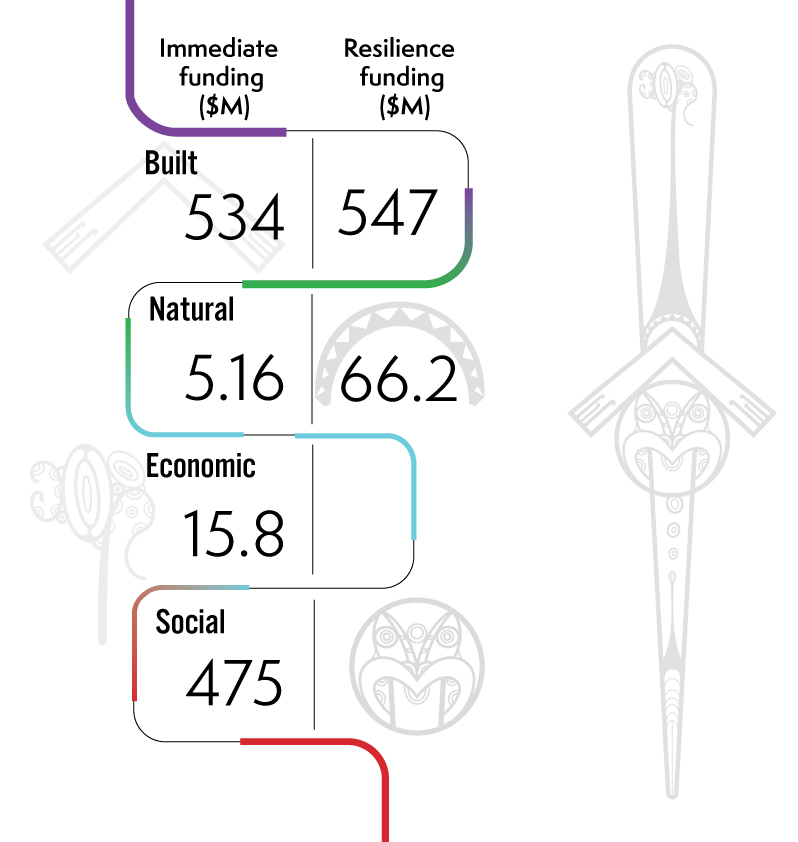 Image - Immediate funding: Built 534M, Natural 5.16M, Economic 15.8M and Social 475M.
Resilience funding: Built 547M, Natural 66.2M
Recovery reports
Reports to inform the Minister for Recovery about progress on recovery in Tairāwhiti.
For our recovery planning, we are taking a phased approach.

Te Runanga o Turanganui a Kiwa (TROTAK)
Te Runanganui o Ngati Porou (TRONP)
Ministry of Education
Ministry of Social Development
Te Whatu Ora
Te Puna Waiora
Te Puni Kokiri
Ministry of Primary Industries
Ministry of Urban Housing & Development
Police
Whaikaha – Ministry for Disabled People
Department of Internal Affairs
Trust Tairāwhiti
Temporary Accomodation Service
NZTA / Waka Kotahi
MBIE - Kanoa
Ministry for the Environment